Battle of Verdun Quick Background Summary
Battle of Verdun, which began on February 21st 1916 until December 16th 1916 was among the most prolonged battles in World War 1. The war was mainly between the French and the Germans and it led to massive casualties. The Battle of Somme which the British started in July of 1916 was as a result of this. The main aim was to help relieve the French of German pressure. This battle like any other had its reasons for occurring and they are as follows:
Listen to Dan Carlin's Hardcore History
Causes of the Battle of Verdun
This Section is Locked!
Unlock this lesson for free to view all sections.
Trench Warfare at its Worst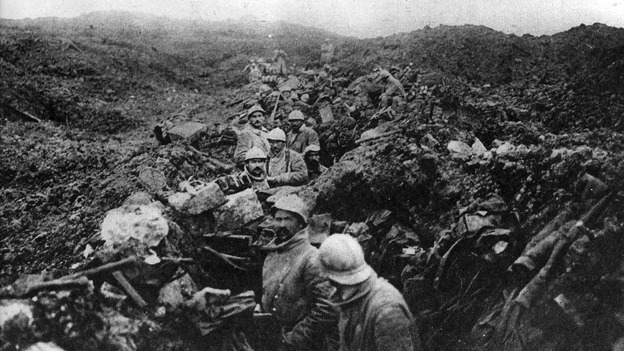 Outcome of the Battle of Verdun
Large number of casualties
This battle proved to be bloody. This was because of the desire held by the Germans to fight to the last man. This was so as to make sure that Verdun and its forts were captured by German forces.The casualties were estimated at 550,000 men for the French and 430,000 for the Germans.
Firing of the German chief of general staff Erich Von Falkenhayn
This was because the original plan failed terribly. The Germans had thought that they would quickly capture Verdun and consequently Paris. All this was to be done with massive French casualties in mind. The contrary happened; Germany lost the battle along with many soldiers. Paul von Hindenburg was to be later appointed.
It provided a boost to French morale
This battle came at a time when the French were down and out. The battle was meant to cripple France and force them out of the war. Instead the French proved to be determined and fought on to win the battle. It boosted their morale and showed that they were also a strong nation with logistical ability.
Signup and Unlock for free
Grades
Graded
Very good presentation and nice podcast. Any maps or geological factors worth mentioning?
britonbrighton
Graded
Any more information?
idonotcare
Graded
Nice lesson! What an awful war.
seotrack86
---
30

Unlocks

5823

Total Reads

20 minutes

Est. Learning Time
Top Rated
Top Seller
---
Ciao! My name is artifactual. I have been a CampusHippo member for about 5 years. I currently offer 2 lessons with a combined overall grade of a and sales amounting to $0.00