Common Sense Moves to be Follow-able on Twitter
Let's face it - having a large Twitter following is immensely important when it comes customer confidence about your brand. Trying to sell a product online with a measly 25 followers on Twitter is costing you revenue. You need a solid follower base as part of your online presence to let people know your brand is legitimate.
In this lesson, I will show you four different strategies you can build 1,000+ Twitter followers in one month or less.
Making yourself Follow-able
There are few commonsense guidelines to follow to legitimize your Twitter profile. These steps should be followed before attempting any of the strategies below. Always think about your target audience and create a profile that caters to their interests.
Upload high quality avatar and banner images.
Include relevant content in your bio
Follow at least 100 accounts closely related to your brand.
Add follow links to your website or blog.
Add follow links to your email signatures.
Add Relevant Content to your Twitter Bio
This is actually very important if you operate in a niche market. Check out the picture below for a new examples of well designed twitter bios. You should be adding content like this to your bio:
Links to your main website

Hashtags for #yourtrend
Mentions of one or two other Twitter Accounts @otheraccount
Examples of Twitter Accounts using #trends in their Bio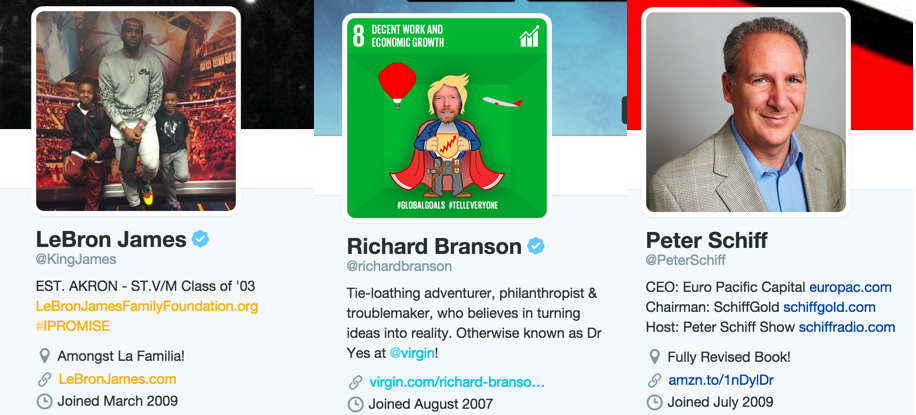 Strategy 1: Build a Following the Old Fashioned Way
Building a follower base the old fashioned way involves going out and engaging other people on Twitter. In order to build 1,000 followers in one month, you will need to get an average of 33 followers per day. Here's a daily plan you can follow to attract more followers.
A Diet of Three Tweets Per Day
The plan is simple - you are going to post well-thought-out engaging tweets three times per day. Below is your arsenal of tweets that will to keep your message fresh with variety. The main key to success is to be consistent and to focus on posting intelligent high-quality content.
The Trending Tweet
Find a trending #hashtag and get your message out. This will expose your tweet to large audience is probably the single most powerful tweet for building followers.
TIP: Twitter posts a list of recommended trending hashtags right on your main feed. So finding one should be a piece of cake. 
Rent's going up. #ScareMeIn3Words

— Trulia (@trulia) October 8, 2015
The Mention Tweet
Find someone important or popular in your industry. Send them an nice compliment, ask them a question, or challenge them in some way.
TIP: Don't be mean. Nobody likes a troll. 
Hey @jimmykimmel, what'd you get your best bud Matt Damon for his birthday!? pic.twitter.com/XmEb2OyOFX

— Good Morning America (@GMA) October 8, 2015
The Media Rich Tweet
Share a cool video, infographic, photo, animated gif, or some other visually colorful content.
Dolphins make the best tour guides #sailing #santabarbarachannel pic.twitter.com/KqOSbjm3NJ

— Anchorage.io (@anchorageio) September 6, 2015
The Promo Tweet (with Emojis)
People like emojis. Include them with your tweets to enhance the readability of your message, then throw in a backlink to the page you want to promote.
People of Android, this tweet is for you! 2.1.2 is now available. Containing all this! Just for YOU! https://t.co/lbF06KQk6e #changelog ✨❄️🎉

— Slack (@SlackHQ) October 7, 2015
The ReTweet
Retweets typically don't have a huge impact on building your follower base, but they have the potential to get your content retweeted in return. If someone popular retweets you, you could see a windfall of followers. Retweet at least once per day in addition to the three normal tweets you post each day.
Summary
Execute this strategy consistently and you're all but guaranteed to see a steady growth in followers. This is the only proven strategy to build a long-lasting highly-engaged social media following. 
Pros

: Leads to a high-quality follower base. Complete control over your social media message. It's free.

Cons

: Large amount of manual labor. Time-consuming.
Strategy 2: Gain Followers via Follower Discovery Apps
This Section is Locked!
Unlock this lesson for $5 to view all sections.
Strategy 3: Outsource your Twitter Account to a Social Media Expert
This Section is Locked!
Unlock this lesson for $5 to view all sections.
Strategy 4: Buy Followers for Shady Companies (aka Bad Idea)
The fourth and final strategy is to purchase followers from shady third parties. Using a service like this violates Twitter's terms of use and could result in your account being suspended, so proceed with extreme caution.
Please note that I DO NOT recommend this strategy. It's included here so you're aware of it as an option that exists in this world. Twitter has recently added phone verification to all accounts in an attempt to limit the possibility of creating numerous bogus profiles. Eventually, they might get more aggressive and threaten intellectual property lawsuits (like Facebook did a few years ago). Pursuing this option might give you a nice follower boost in the short run, but runs the risk of causing problems in the future. 
How to Buy Followers (Remember,
don't do this!

)
Go to Google.com and search Buy Twitter Followers
Click the top search result. These websites are constantly dying and being reborn, so I can't recommend a specific service.
Use your credit card to buy followers. Start with something small, like a few hundred.
Sit back and watch the fake followers pour in.
Keep fingers crossed to prevent your account from being banned by Twitter.
Summary
This is a terrible idea that just might work for you. Just be well aware of the risks. 
Pros: It's cheap. Quickly builds your follower base.
Cons: It's a shady business. Could get your account banned. Followers are worthless and usually not real people.
Signup and Unlock for $5
Grades
Nobody has graded this lesson yet.
---
1

Unlocks

240

Total Reads

24 minutes

Est. Learning Time
---
Ciao! My name is seotrack86. I have been a CampusHippo member for over 3 years. I currently offer 4 lessons with a combined overall grade of a and sales amounting to $5.00