Keys to Success in ACC290 Week 1
The problems in this lesson cover basic accounting situations in based on GAAP and IFRS rules. I will teach you how to use excel to solve these problems and keep your figures organized. If you need clarification on any particular section, just shoot me a message!
Do-It 1-3 Marsh Corporation
Do It 1-3: Marsh Corporation began operations on January 1, 2014. The following information is available for Marsh
Corporation on December 31, 2014.

Accounts payable $ 4,000 Notes payable $ 8,000

Accounts receivable 2,200 Rent expense 10,200

Advertising expense 4,000 

Cash 3,300 Service revenue 25,600

Common stock 15,000 Supplies 1,800

Dividends 2,500 Supplies expense 1,800

Equipment 26,000
Prepare an income statement for Marsh Corporation.
Solution: 
Correct Answer A
IFRS uses what we call a principles based accounting disclosure system.This makes the disclosure requirements minimal, because the is more conventions followed between companies, thus eliminating the need for extra disclosure. 
Exercise 1-3 Clear View Golf & Country Club
Exercise 1-3: QuestionThe Clear View Golf & Country Club details the following accounts in its financial statements.
(a) Classify each of the following accounts as an asset, liability, stockholders' equity, revenue, or expense item.
(b) Classify each of the following accounts as a financing activity, investing activity, or operating activity.
Solution: 
Please Download Excel Attachment Below
Exercise 1-4 Molina Co
Exercise 1-4: This information relates to Molina Co. for the year 2014.Retained earnings, January 1, 2014 $67,000
Advertising expense 1,800

Dividends 6,000

Rent expense 10,400

Service revenue 58,000

Utilities expense 2,400

Salaries and wages expense 30,000
After analyzing the data, prepare an income statement for the year ending December 31, 2014.
Solution: 
Please Download Excel Attachment Below
E1-4 Income Statement on Excel Spreadsheet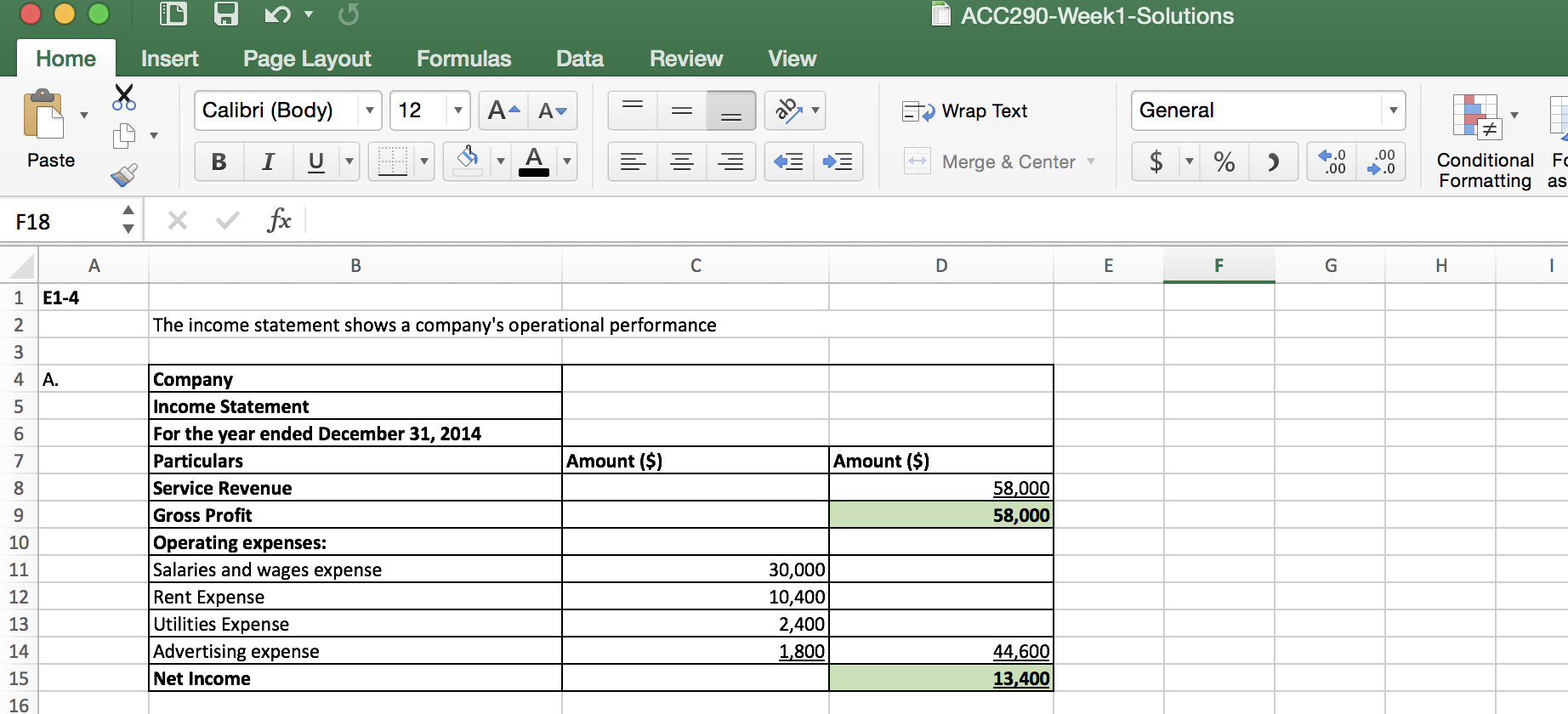 Exercise 2-4: Heinz
Exercise 2-4: Suppose the following information (in thousands of dollars) is available for H.J. Heinz Company—famous for ketchup and other fine food products—for the year ended April 30, 2014.
Prepaid insurance $ 125,718

Buildings $4,033,369Land 76,234

Cash 373,123

Goodwill 3,982,867

Accounts receivable 1,171,677

Trademarks 757,806

Accumulated depreciation—buildings 2,131,260

Inventory 1,237,613
Prepare the assets section of a classified balance sheet.
Solution
: 
Please Download Excel Attachment Below
IFRS 2-4 Ruiz Company
IFRS 2-4: The statement of financial position for Ruiz Company includes the following accounts (in British pounds): Accounts Receivable £12,500; Prepaid Insurance £3,600; Cash £15,400; Supplies £5,200; and Debt Investments (short-term) £6,700. Prepare the current assets section of the statement of financial position, listing the accounts in proper sequence.
Solution: 
Please Download Excel Attachment Below
Answers for All Problems in Excel
This Section is Locked!
Unlock this lesson for $5 to view all sections.
Signup and Unlock for $5
Grades
Graded
This was a joke don't do it. I went to download the spreadsheet and it would let me, it said exceeds the limit. Just don't do it.
kcccntx
Graded
There is no information on DO IT 1-3 section.
Rest was helpful, although the numbers were different then mine on the actual assignment but all the correct names were there for me.
alliemay86
---
6

Unlocks

3393

Total Reads

32 minutes

Est. Learning Time

---
Hallo! My name is excelwizard. I have been a CampusHippo member for almost 7 years. I currently offer 5 lessons with a combined overall grade of c and sales amounting to $169.00
---
- I've been working with Microsoft Excel since the early 1990's. My primary skill-set involves programming advanced excel macros for use in finance, data analysis, and education.