Problem and Solution for Adding Weather to a Rails App
You're building a rails app that is required to display weather data at any point on planet earth. You want to display current conditions as well as the future forecast. 
Solution 
In this lesson, I will show you how to integrate the free tier of Forecast.io into rails. This code is taken directly from a popular weather forecasting app for used by sailors for long distance yacht voyages and it can do the following: 
Get Local Weather for set of GPS coordinates, ie 34.0000, -119.00000
Get weather data at a specific time, down to the minute. 

Provide a daily-overview style weather forecast for the entire week. 
My goal is to give you a solid backend for building a weather forecasting app. Once you have the backend API in place, you can integrate this with google maps or use geocoding to give your users localized weather data. The possibilities are endless. 
Prerequisites
Basic Knowledge of Ruby on Rails
Basic Knowledge of HTML/CSS and Javascript
Rails 4+ 
Initial Configuration with Forecast.io API
First, you'll need a free Forecast.io account to access the API. Head over to https://developer.forecast.io/ and get your API key. We'll use the figaro gem to keep our API key hidden if our codebase is ever public, such as a GitHub repo.
Gemfile
gem 'forecast_io'
gem 'figaro'
then run bundle and figaro install
config/application.yml
forecast_io_key: 'YOUR_API_KEY'
config/initializers/forecast_io.rb
require 'forecast_io'  

ForecastIO.configure do |config|    
  config.api_key = Figaro.env.forecast_io_key  
end
Lastly, let's generate a scaffold that will have latitude and longitude attributes that we can use to query the Forecast API.
$ rails g scaffold Forecast lat:float lng:float
Getting the Current Weather for a Specific Location
This Section is Locked!
Unlock this lesson for free to view all sections.
Showing Weather Data in Rails View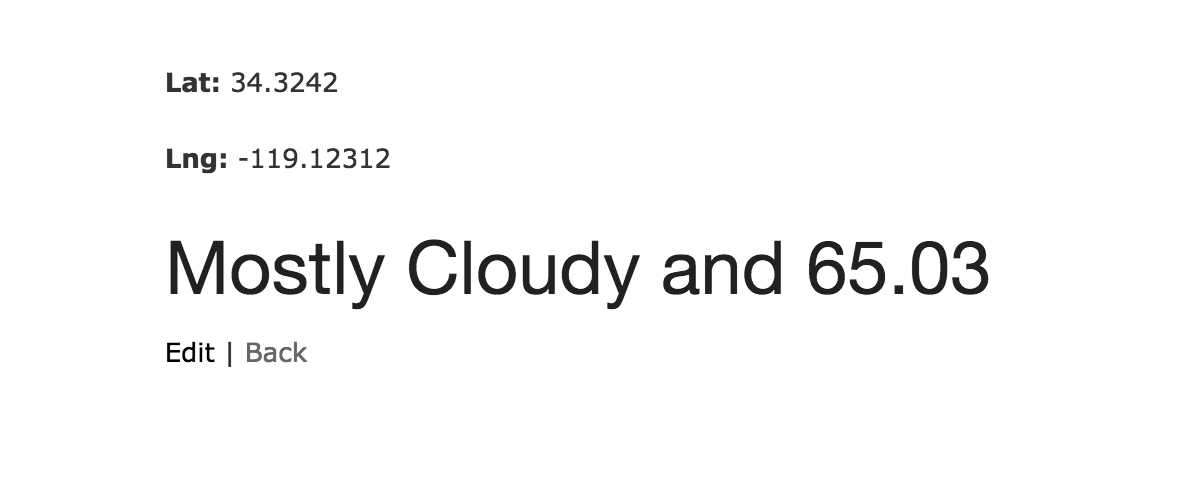 Building a Weekly Weather Forecast
This Section is Locked!
Unlock this lesson for free to view all sections.
Weekly Weather Forecast Data in the Rails View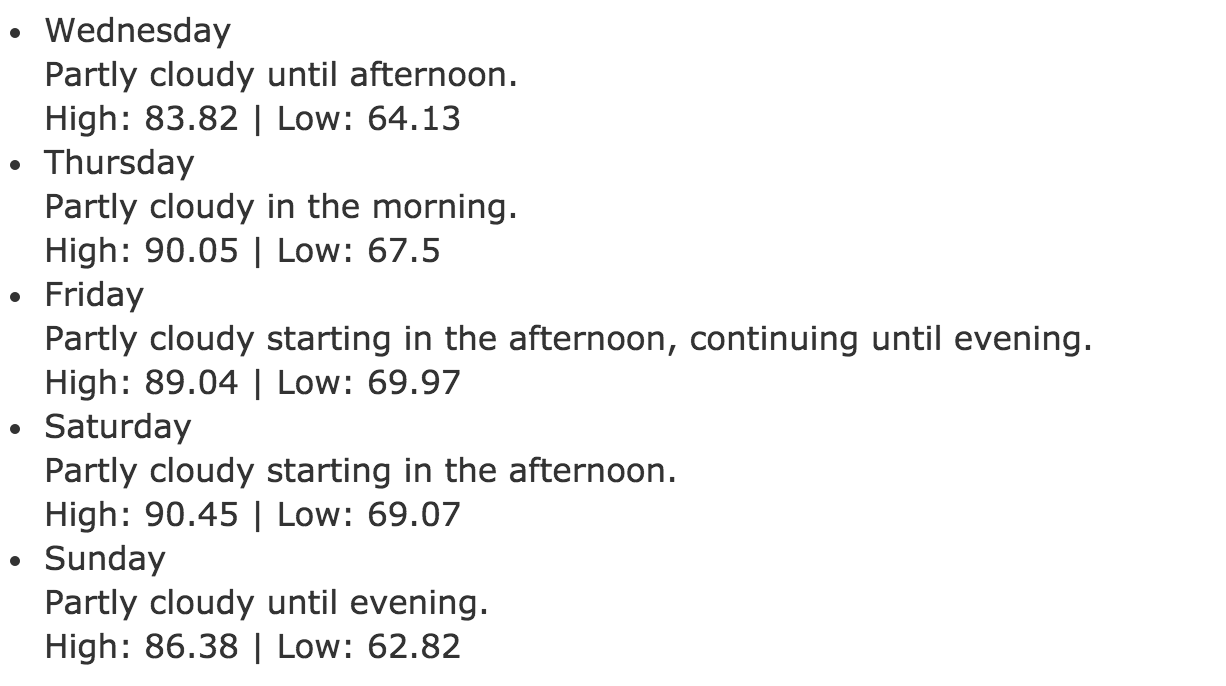 Signup and Unlock for free
Grades
---
185

Unlocks

3223

Total Reads

24 minutes

Est. Learning Time
CampusHippo Staff Pick
Top Rated
Top Seller
---
Ola! My name is metasyncro. I have been a CampusHippo member for about 7 years. I currently offer 3 lessons with a combined overall grade of a and sales amounting to $20.00